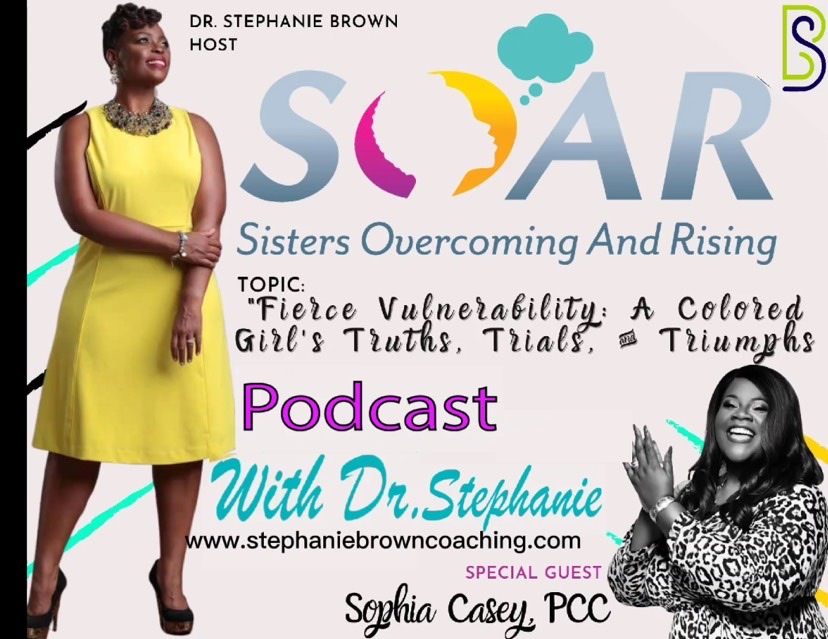 In Episode 20, Dr. Stephanie is joined by Master Coach, bestselling author, international speaker Sophia Casey. The topic focuses around the title of her amazon best selling book Fierce Vulnerability: A Colored Girl's Truths, Trials, and Triumphs.  This conversation forces us to get real by asking ourselves "Are you willing?" All too often, we are eager to celebrate the fierceness in ourselves and in our sisters, but what about the vulnerability. They do go hand in hand you know. Are we willing to admit that we are struggling, that we need help? As they discuss the characters in the book and their challenges like being a  career powerhouse but attracting lovers who don't love them it stops being about the fictional characters and starts being about us as women and specifically Black women. We can learn how to lay down our shield and take the mask off and experience the freedom and expansion that comes from it, Sophia tells us how in her epic book. Fierce Vulnerability is not just a book, its a movement. We invite you to join the movement. Sophia is currently hosting a virtual book tour and summit. Check out her Facebook ( Link below) page for details. This is just part 1 of a series of Fierce Vulnerability books and HOT off the presses, this story is being  made into a MOVIE!
Sophia is passionate about life-long learning evidenced by her more than 25 years in the learning and education field and creation of the Ease & Flow Academy for leaders.  Sophia received her education at UCLA and Johns Hopkins and is a member of Delta Sigma Theta Sorority, Incorporated.  She is a featured voice on Amazon Alexa, and has been featured in SUCCESS magazine, and interviewed on several radio programs including SiriusXM, WHUR (DC), WRNR (MD).
In 2017, Sophia faced a major crisis in her life that would forever change it. Her husband experienced a traumatic brain injury which sent her family into a world wind of challenges.  Sophia found solace through journaling and subsequently created the very popular Ease & Flow Journal: A 31-Day Journal to Get Clear, Connected, and Courageous About Life. The journal includes daily structures to help you focus on your most important tasks, move your goals forward, practice self-care, and practice gratitude.
Sophia's joys are traveling with her husband, spending time learning from her son, and fundraising to help eradicate breast cancer and eliminate hunger. Her vision is to travel the world speaking and sharing her Leadership, Ownership & Accountability (LOA) program, launching her television show and continuing to create products and services to help others fully embrace their power with ease and flow.
https://sophiacasey.net/fierce-vulnerability/
https://sophiacasey.net/speaking/
https://easeandflowacademy.com http://facebook.com/CoachSophiaCasey1 http://us.linkedin.com/in/SophiaJCasey
 http://twitter.com/SophiaCaseyPCC http://instagram.com/CoachSophiaCasey
www.stephaniebrowncoaching.com